The Smell & Taste Lab's Insightful Presence at IFSCC 2023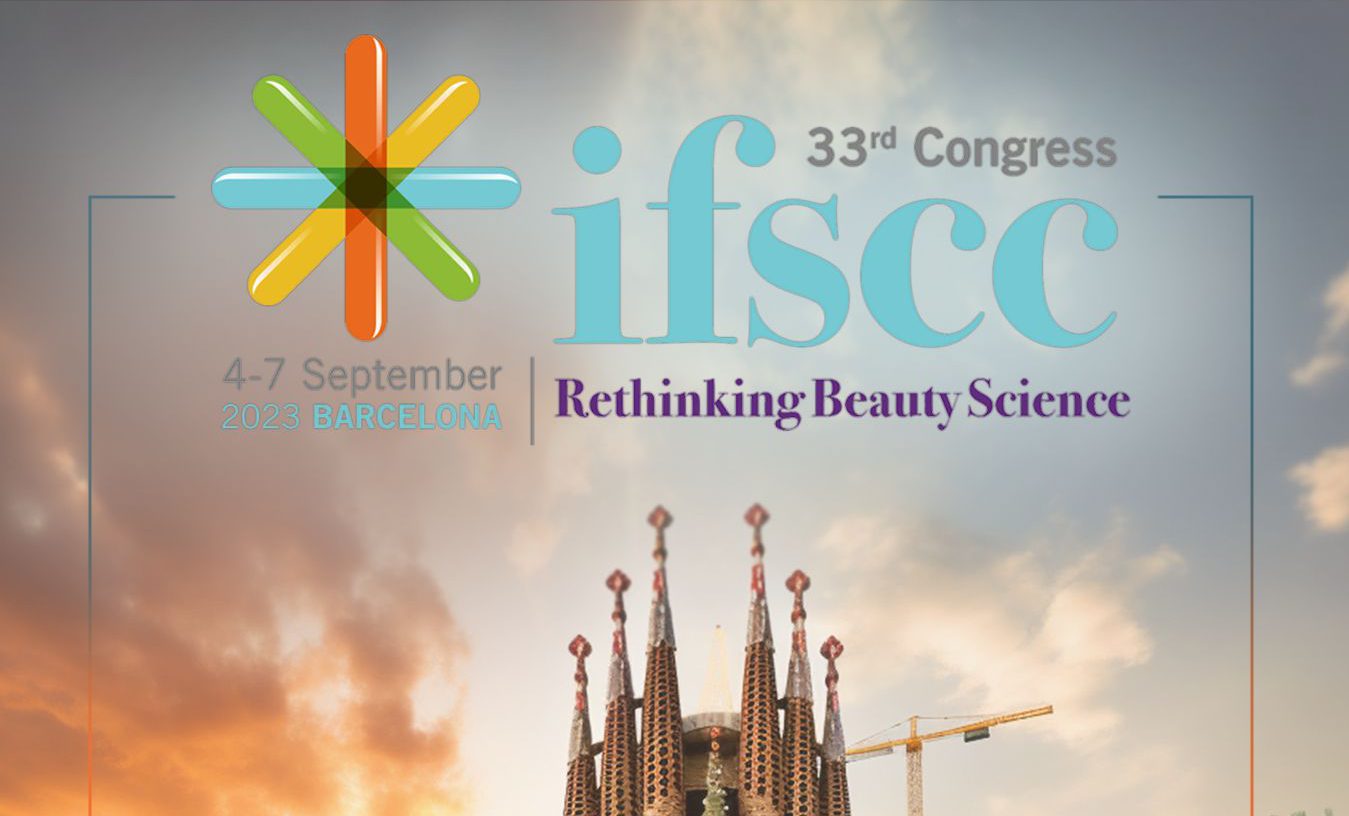 In the world of scent and taste exploration, The Smell & Taste Lab had the privilege of participating in IFSCC 2023, held in Barcelona. Our founder, Anne Abriat, presented two posters during the conference, which we are excited to share with you. But that's not all – we're equally thrilled to shed light on an award-winning research project in which we played an initiating role, demonstrating our dedication to advancing sensory and consumer science.
Spotlight on Anne Abriat's Research
During the esteemed IFSCC 2023 Congress held in Barcelona, founder of The Smell & Taste Lab Anne Abriat showcased her dedication to innovative sensory research. She presented two thought-provoking posters that explored the fascinating intersections of scent and emotions:
1. Touch-smell congruence of cosmetic product perceived by experts and users and its impact on moods: In the "Rethinking Beauty Making: Olfactory Connections" session, Anne explored the intriguing relationship between the sense of touch and smell and its influence on our moods.
2. Olfactory training: Effects of multisensory integration, attention towards odors and physical activity: Anne's presentation during the "Rethinking Beauty: exploring innovative solutions" session delved into the effects of olfactory training, particularly when combined with physical activity, on our sensory experiences.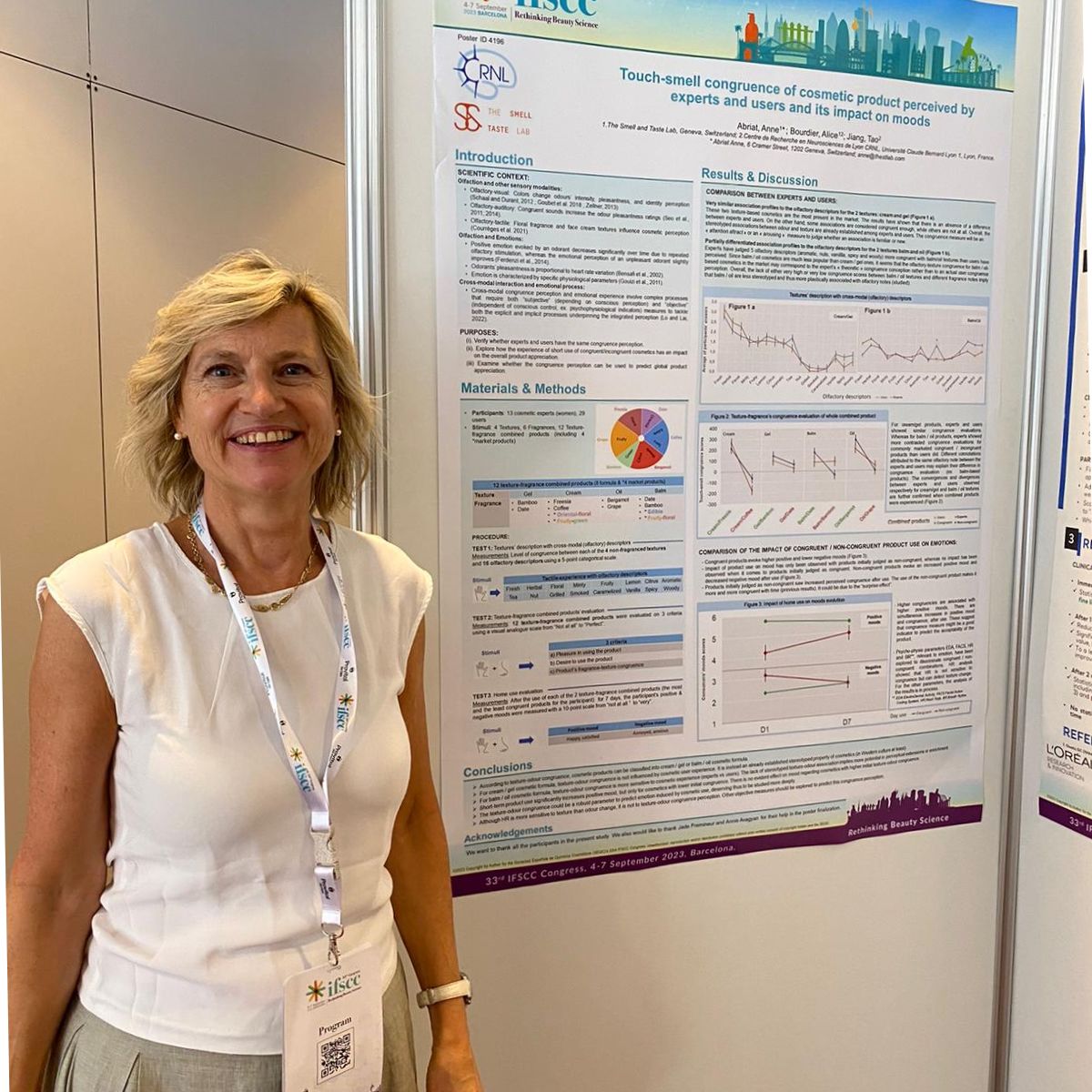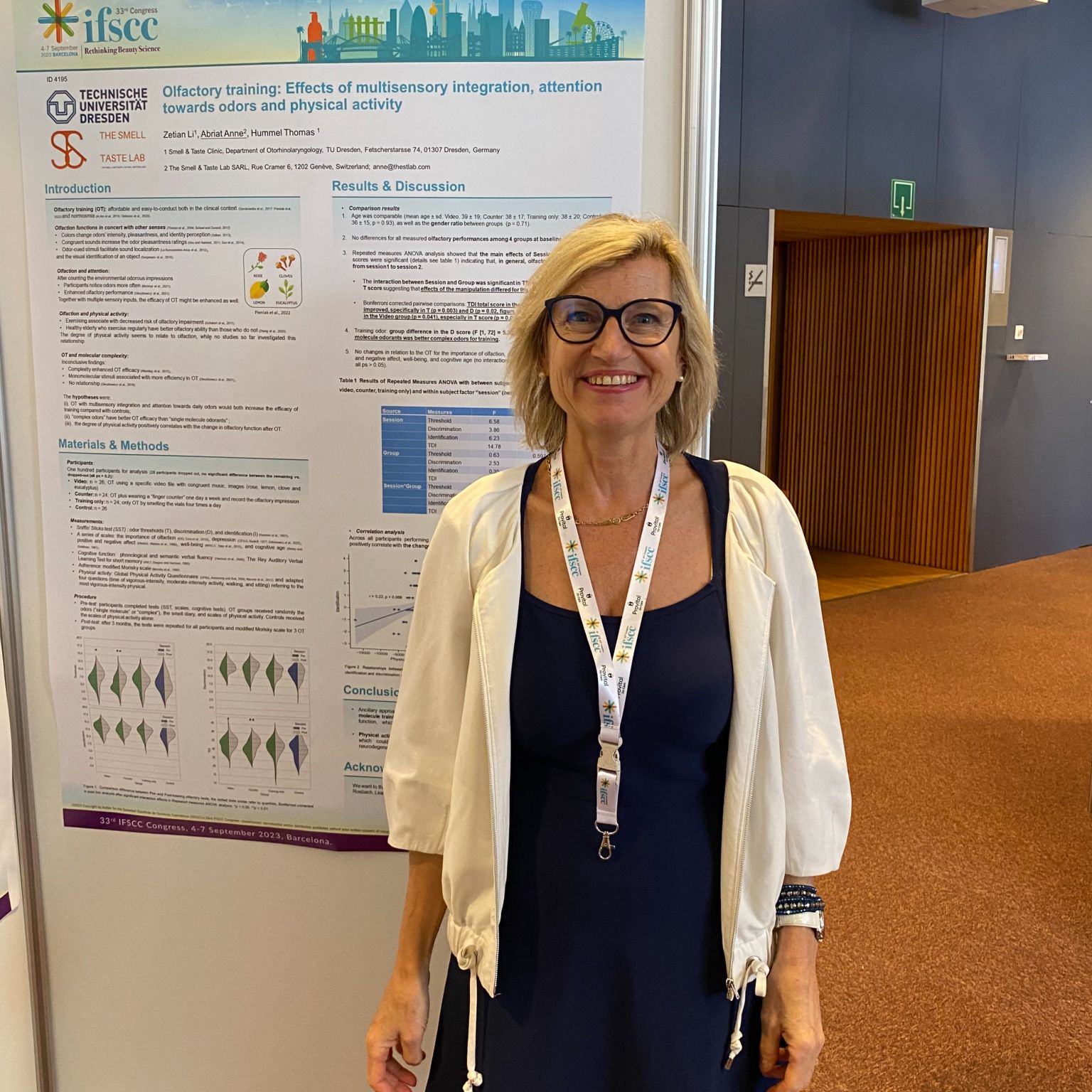 We would like to extend our heartfelt gratitude to Prof. Thomas Hummel and the Lyon Neuroscience Research Center (CRNL) for their invaluable contributions to both posters. Their expertise and dedication have played a significant role in advancing our understanding of sensory science.
IFSCC 2023 Research Awards: A Collaborative Success Story
However, our journey at IFSCC 2023 didn't end with these presentations. We are thrilled to highlight an award-winning research project that we were proud to support. Dr. Aline Robert-Hazotte, Scientific Innovation Leader at Shiseido Europe Innovation Center, presented a groundbreaking research titled "Deep Dive in Emotional communication in humans: study of the transmission of positive emotions through body odors". This study, initiated and supported by The Smell & Taste Lab and Anne Abriat from 2018 to 2021, was conducted in collaboration with the Lyon Neuroscience Research Center (CRNL), Professor Camille Ferdenzi-Lemaitre, and Dr. Stéphane Richard Ortegon.
The research explored the intriguing concept that positive emotions could be contagious through body odors. Such findings could impact consumer science and revolutionize fragranced products, enhancing not just their scent but also their potential to boost social interactions and overall well-being.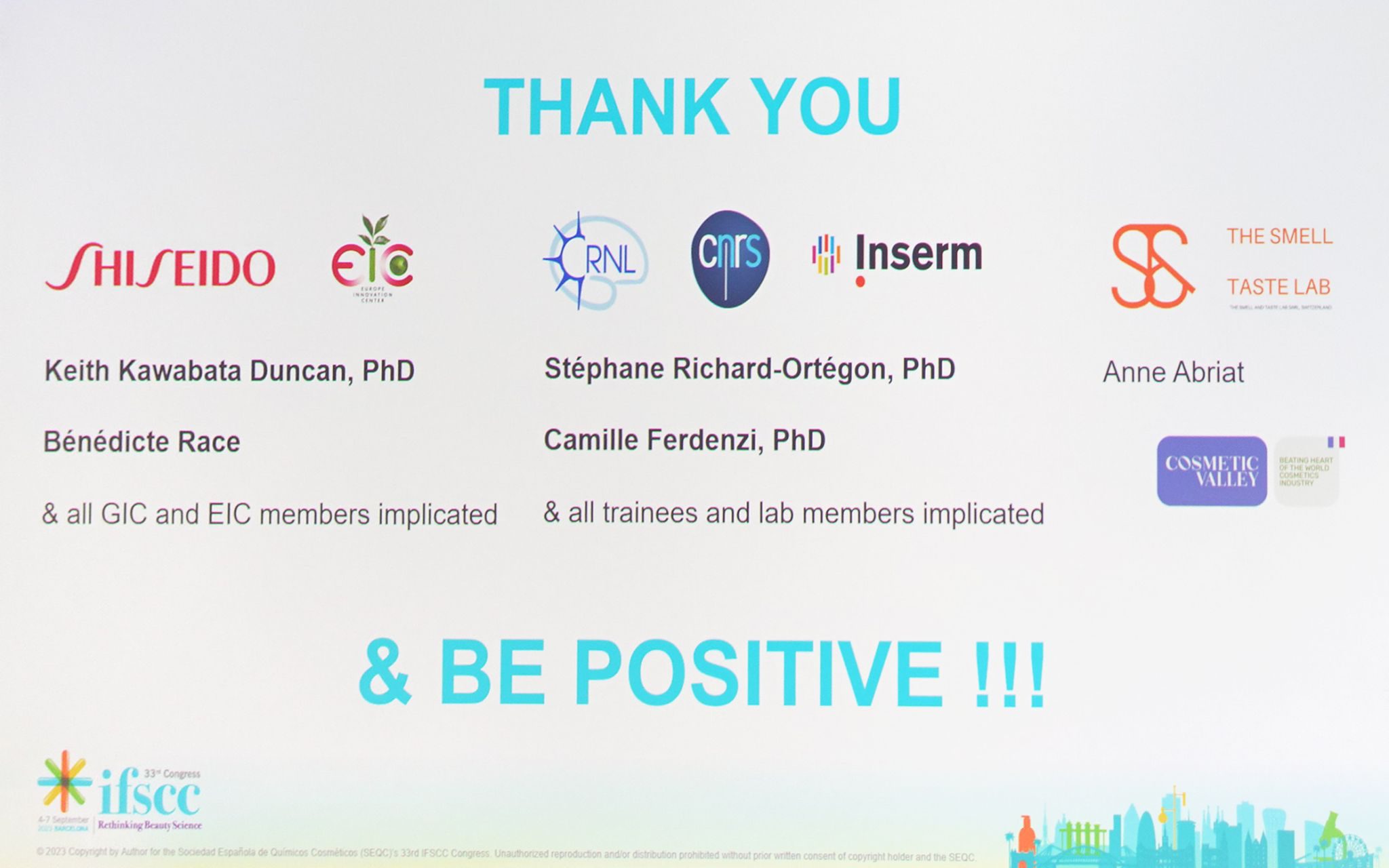 Conclusion
Our presence at IFSCC 2023 was marked by a commitment to advancing sensory science. Anne Abriat's presentations and our collaborative success with CNRL and Shiseido reflect our dedication. We stay current in sensory and consumer sciences, exploring new methods and tools to enhance consumer experiences. As we journey deeper into the world of sensory perception, stay tuned for exciting developments.